Below I've listed some of my favorite LA restaurants, cafes, delis and diners. There seems little point saying that I'll be updating these soon, cause you know me, I am such a gourmet!
Enjoy!
Urth Caffe
Get your orders at the counter, get a number and wait for something delicious, it may be their specialty Boba drinks with tapioca pearls (you'll be given appropriately large straws so you can actually get those little buggers out of the glass), their organic coffees, fabulous healthy breakfasts or lovely salads for lunch.
Urth is hailed as LA's favorite 'cafe' and the celebs love it, so far there are 4 locations, I prefer the one on Main street as I'm a Santa Monica girl.
Urth Caffe Santa Monica, 2327 Main St (corner of Hollister Ave)
Urth Caffe West Hollywood (original), 8565 Melrose Ave (corner of Westmount Dr)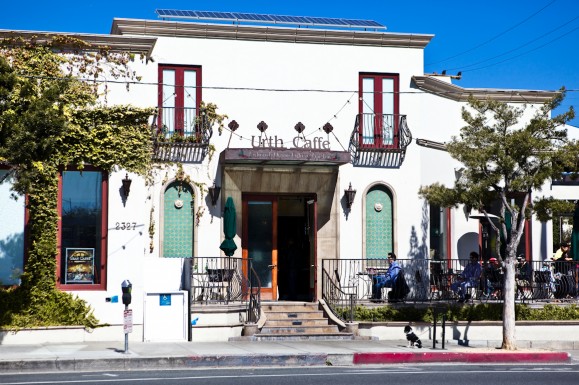 Cafe Montana
This place is as LA as it can get! It's a very bright restaurant with two huge glass walls and spotless white tablecloths, the great and tasty desserts are legendary. The waiters always make sure your glass of water is full and you'll see LA's rich and famous often. It's super convenient and lovely for any work meetings when you find yourself in Santa Monica or Brentwood.
Cafe Montana, 1534 Montana Ave (corner of 16th St)
Asia de Cuba in the Mondrian hotel
I always feel that Asia de Cuba is more Asian in Miami and more Cuban in LA, if anything surely it should be other way around, I wonder?
The food is like nothing you've ever tasted and for me it rivals NYC's Buddakan. The combination of ingredients are unexpected and beyond delicious, I had a calamari dish that came with a banana salad. I was a bit skeptical at first, banana in a salad? I have to say that I do love bananas, they remind me of a childhood story I may share soon, but BANANA SALAD? Hmmmm… I wasn't sure? Let me tell you, it was genius! I asked about the recipe and will post it for you soon. Even the cocktails are unique, I mean WOW! There's no other way to express this. Try which ever one your waiter recommends, they won't let you down! This is the place to go wild! Try things you wouldn't normally try, you'll discover a new world!
I love the simple minimalistic white on white design by none other than Mondrian's designer Philippe Starck. The views of LA are beautiful here, especially at night, ask for a table at the back by the panoramic windows.
PS: Before you enter the restaurant I would definitely recommend a quick swing in the hotel lobby, you'll see what I mean!
Mondrian Hotel Los Angeles, 8440 Sunset Blvd (corner of W Olive Dr)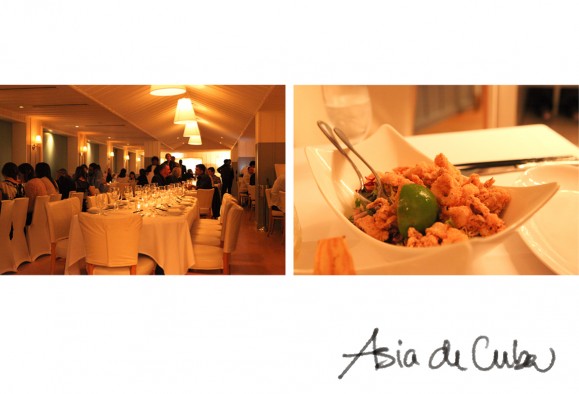 Nate'n Al's
If you're looking for a real NY diner experience and a very American meal, go to Nate'n Al's on Beverly Drive. This place is the opposite of what this Rodeo Drive area is all about, it's old school America, founded in 1945. Don't expect lattes, espresso, soy or anything with a twist or dash of this and that, hello black coffee refills! I've actually bumped into Larry King here few times, once literally, so embarrassing!
For another diner experience try 'Swingers' in Santa Monica, old school diner kinda meets modern America… I love this place and have lots of great memories. Enjoy a seat in one of the booths with a HUGE glass of orange juice and an even bigger portion of pancakes, of course with a bucket of maple sirup on the side. Great people watching a really eclectic crowd.
Nate'n Al's, 414 N Beverly Dr (between Brighton Way and S Santa Monica Blvd)
Swingers Santa Monica, 802 Broadway (corner of W 8th St)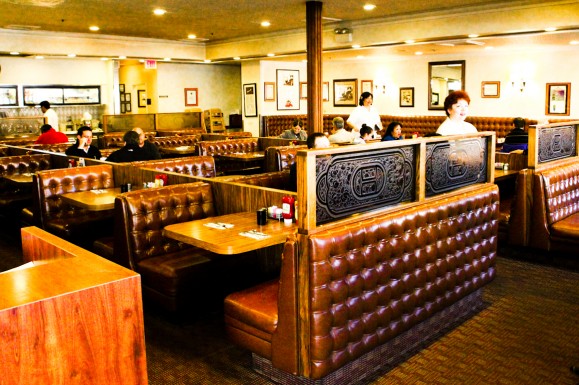 Katsuya
French designer Phillipe Starck impresses with his white aesthetic yet again in this heaven of Asian cuisine.
The food is 'Asiatastic' and simply perfect. Try the miso marinated black cod or crispy rolls as a starter. Have you noticed that somehow salted edamame as a starter is disappearing from way too many restaurants? Not in Katsuya though, delicious!
I always go to their original Brentwood location, there's now 4 across the city but I've never tried the others, let me know if you do!
Katsuya Brentwood, 11777 San Vincente Blvd (between Montana and Gorham Avenues)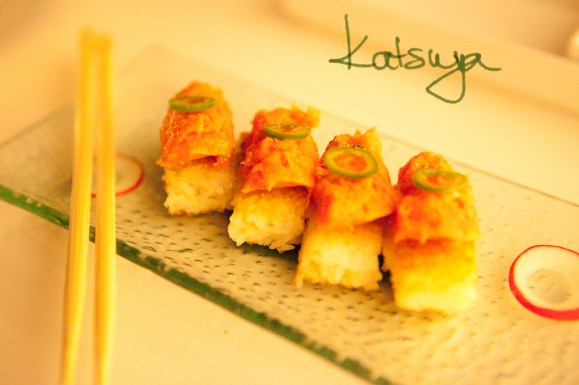 Spago Beverly Hills
When your waiter greets you and suggests switching your white napkin to one that will match the color of your dress so you don't get contrasting lint on your clothing, you know you're in to be spoiled rotten, spoiled like a Queen!
Austrian born chef Wolfgang Puck is a superstar in LA with an array of restaurants in the city and even more around the world. Spago is an LA's classic, no pretentious design, it's all about the great food here. I've had the best schnitzel I've ever eaten, and I am a Czech girl so I've eaten loads… sorry mum!
Spago is one of LA's best treasures.
Spago Beverly Hills, 176 N Canon Dr (corner of Wilshire Blvd)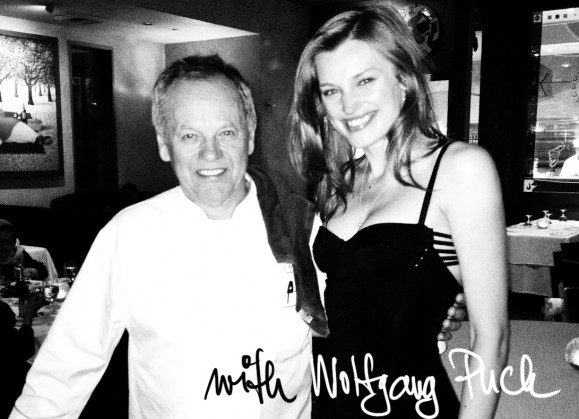 Taste
Either outside on the little patio or inside the main restaurant, this is a very cozy and cute place. Taste has two locations in LA, I usually go to the Melrose one. It's a great place to go for a brunch, their salads are beyond TASTEY!
Taste on Melrose, 8454 Melrose Ave (between N La Cienega Blvd and N Croft Ave)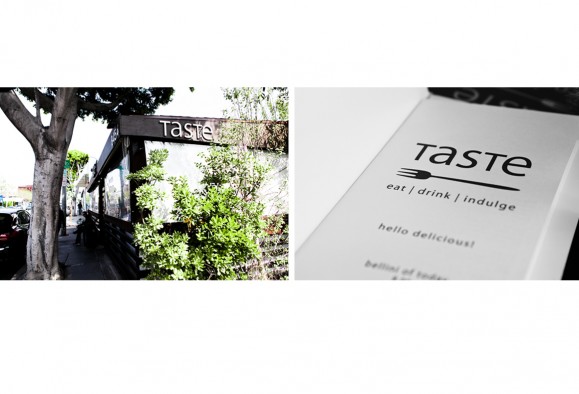 Mulberry Street Pizzeria
I may regret telling you this but here goes my dignity, Kindergarten Cop, is one of my all time favorite films. I know…I just love the 'governator' way too much but this was one of the first films available in my country when communism ended. The truth is we had a black market copy in horrendous quality, dubbed in German with a Polish voice-over so until very recently I had no clue what they were even talking about!
Now the reason I shared that gem with you is that this restaurant is featured in the film, funnily enough it's co-owned by actress Cathy Moriarty, who also appeared in the film as one of the kids mother.
So obviously this is my favorite pizza place, not only for my secret Arnie obsession, but mainly for Mulberry's 'magnifique' thin crusted pizzas, one of LA's best. NY-style pizza your way!
Mulberry Street Pizzeria- Beverly Hills, 240 S Beverly Dr (between Gregory Way and Charleville Blvd)
The Ivy
Flower heaven, literally! It's so cute here you forget that you're in Beverly Hills. A little cottage-style house with white picket fence and all. Flowers grow all around you, more flowers on the tables, decorating the crockery and even the waiters wear flowery ties. You actually feel like you're in rural England. The food is lovely here and when you order latte beware, you'll get a bucket of it!
There's also 'Ivy at the Shore' in Santa Monica so you can have a similar experience by the ocean.
The Ivy, 113 N Robertson Blvd (between Beverly Blvd and Alden Dr)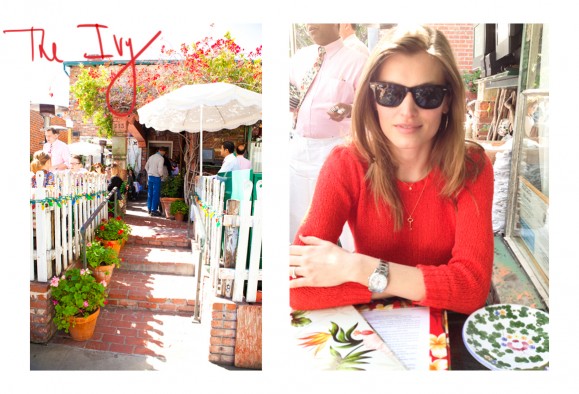 Moonshadows
They could be rude here, the food could be a disaster but you would still go. You come here for the panoramic views of the Pacific Ocean, comfy day-beds and the amazing sunsets.
So, the lovely and gracious staff, delicious meals and cocktails are just a bonus!
It's a great place to go freshen up with a glass of something special after a long hike in Santa Monica mountains. It's right on PCH, you can't miss it!
Moonshadows Malibu, 20356 Pacific Coast Highway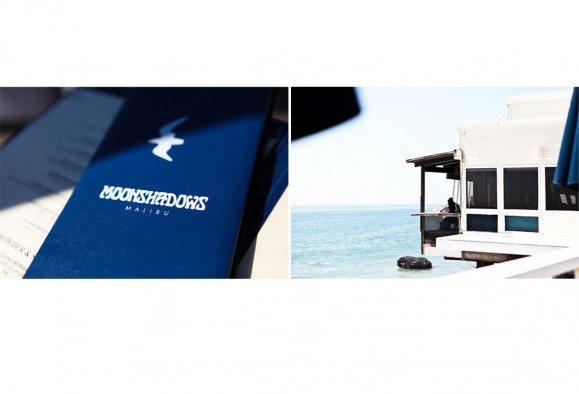 Il Cielo
Have a proper Northern Italian dinner in a very romantic enchanted garden.
Candles, chandeliers, fairy lights, trees and great Italian wine rule here.
Il Cielo, 9018 Burton Way (between N Wetherly Dr and N Almont Dr)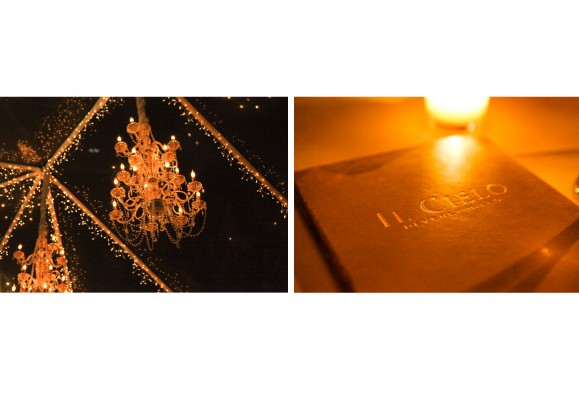 Fig&Olive
This is for olive oil fanatics and all foodies around the world. The very spacious light filled restaurant is the newest addition to the Fig & Olive family, the only one on the west coast so far. It has the same purpose and religion as it's NYC counterparts– the Mediterranean cuisine cooked to perfection with the freshest ingredients. There's no better place to stock up on your olive oil, you can choose from 30 different types.
Fig and Olive, 8490 Melrose Place (corner of N La Cienega Blvd)
Le Pain Quotidien
My own classic. Read why in my 'LPQ' post. I used to prefer the Santa Monica location, but my new favorite (I am sure I'll have another one next time) is the wooden western-style house with it's large fenced patio in Beverly Hills, it's right opposite Kitson so I always drop in after I've been shopping for my Hanky Panky undies.
Le Pain Quotidien West Hollywood, 8607 Melrose Ave (corner of Westbourne Dr)